Norges beste omveier
When the road is the goal, Norway's best detours are a tour guide for you who are looking for a little off the beaten track to something a little more than usual. Here you get all the best tips for these car trips.
Authors: Per Roger Lauritzen og Reidar Stangenes
Language: Norwegian only
Format: 190 x 260 mm.
Number of pages: 304
Hard cover.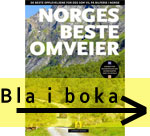 Comments