Norges beste utsikter
Norway is full of places with fantastic views. From the outer archipelago to the highest peaks you can find spectacular views and mighty panoramas. Norway's best views are a practical guide to these places.
En perfekt bok til planlegging av norgesferien.
Authors: Per Roger Lauritzen og Reidar Stangenes
Language: Norwegian only
Format: 190 x 260 mm.
Number of pages: 304
Innbundet.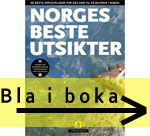 Comments