Min insta-tur
This book is in norwegian language.
Trip advices for your adventures
Julie Bjanes
My insta tour of the instagram profile Julie Bjanes gives you inspiration on how you can enjoy the hiking life and beautiful adventures in Norway. Julie Bjanes is a real tourist, and likes to have fun outdoors. She likes to take the most beautiful dresses in the closet up to the mountain tops.
The book guides both you who have never hiked before, and you who have hiked many times. You do not always need so many kilometers or altitude meters before you can find the most beautiful views. In the book you get tips for 50 trips you can go alone, with young people and with the elderly. Tips from where to park, to where to buy the best tour snack, and where and how to get the best photos. This book simplifies and lowers the threshold for travel. So easy that you can scan QR code that guides you to the right place.
Maybe this is the first time you are planning a Norwegian holiday, or you have already sailed the country and need tips for some new places.
My insta tour is a simple, useful and very worth seeing book! The goal is that you are left with some wonderful memories from the trips and photos you can proudly show off.
Authors: Julie Bjanes
Language: Norwegian only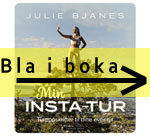 Format: 210 x 225 mm.
Number of pages: 176
Hardcover.
Comments